Here are some people you should meet, as they are my family for the next few months.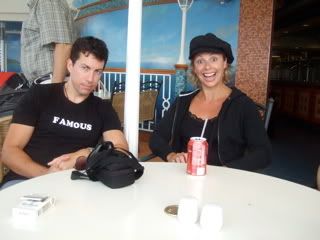 Dave and Jennine are a married couple from Toronto. This is their second stint on the Norwegian Jewel, as they have been here for the four months prior to our arrival. They are full of life and energy and could not have been more welcoming to our sleep-deprived, disoriented selves when we arrived in Miami.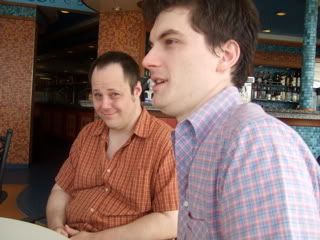 This is Dave Keaton, our musical director, who is calm and cool and breaks out with the best songs. He is based in L.A. Obviously, the gentleman in the front of this shot is Steve, who is pretty okay, I guess.
This is Cody (dressed sharp) and Matt (dressed in a towel). Cody is from New Mexico, our team captain, and is probably one of the best guys I've ever met – so kind and funny. Matt is a Chicago Mainstage Alumni who is our director. He will only be with us for a week, and we will miss him a big ton, because he is a giant man with a giant heart who has really put this thing together.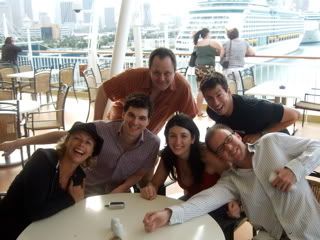 So, here we are. Sailing away from Miami, our routines, our cell phones, our grocery shopping, our day jobs, our apartments, our pets, our winter coats, our land-life, and moving onto bluer pastures.